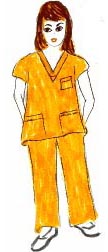 Basic v-neck top and pants. Top can have 1 top pocket and be tucked in without side slits, or 2 or 3 pockets with side slits, or pocket free.
Pants are usually elastic waist but you may order drawstring, elastic, or both together. Pockets can be side slit, cargo, back, front, or wherever you desire. Legs can be straight, wide, bell bottom, tapered or ribbed.

This is the weskit top. It can be made with button or snap front. Back can be belted (A), with a drawstring (B), or gathered (C).
Weskits are usually fitted with front and sometimes back darts.